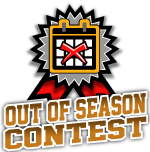 Streak Contests
We are sure you have heard of a Streak Contest before as they are highly publized, but perhaps you have never hosted your own.
How does a Streak Contest work?
Rules for streak contests are simple! For each correct pick you make your streak increases by 1. Make an incorrect pick and start over again from 0. Most streak contests will last for long period of time such as the length of a regular NFL season as to give the field a chance to post up some lengthy streaks and make things interesting. The player with the longest recorded streak within the date range of the contest wins.
Available Leagues: (Any combination of the following)
NFL
NCAAF
NCAAF Top 25
NBA
NCAAB
NCAAB Top 25
MLB
Options and Settings:
Your Streak Contest comes complete with a full suite of automated services and options to ensure you execute your contest in an effortless yet professional manner making the job of Commish smooth sailing. With your Streak Contest, you will have the option to utilize the following resources based on your needs:
- Start and end your contest anytime you want throughout the year
- Combine multiple sports to increase your pick selection
- Set the incremental days between a required pick from 1 to unlimited
- Tie breaker options to define rankings
- Pick on the sides, totals and moneylines of each event
- Set a "Max Odds" filter
- Reminder Notices
- Score emails
- Trash Talk Message Boards
- Roster and Share Tools
- Poolwide Email
- Printable Poolwide Pick Listings
We also provide you and your friends with full telephone and email support to assist with any issues or questions that might arise.
What does a Streak Contest cost?
A Streak Contest costs $9.99 per contest and includes up to 10 users, each user beyond 10 costs $1. However, you can create your own Streak Contest today for FREE at no risk of being charged. If you find it to meet your expectations and needs you will be required to pay your invoice within 14 days after the contest starts by simply using one of our easy payment methods including Visa, Mastercard, Paypal or Paper Check.
Does Contest General offer White Label Skins for Tournament Madness Share Contests?
Absolutely! If you are a bar owner with regulars, a radio station running a promotion or perhaps a social club that would like a modern solution to running your sports contests then look no further. Contest General offers a tailored solution that allows you to brand your contests as well as allow your participants to play online. In addition you can broadcast your sports contests from your social media page or business web site for enhanced marketing of your brand as well as customer retention from their continued engagement with your business.
Still have questions?
If you still have questions please do not hesitate to contact us using our contact us form and our friendly customer service staff will be more than happy to assist you.