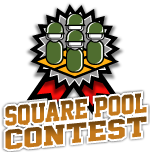 Square Pool Contest
What is a Square Pool?
Square Pools or just "Squares" as they are commonly referred to are perhaps the most recognized form of sports contest and by far the easiest to run for large groups on specific events for various types of sports.
A square pool is a 10x10 grid in which participants select random squares from the grid. To select your squares you simple click on it and your contest user name will be displayed on the square for all other contest participants to see. The contest manager has the option to allow from between 1 - 99 picks per player depending on their preferences. For example, if there were 10 people in your square pool then you would set your max picks to "10" when creating your pool. If there were 100 then the max picks would be set to "1".
Each team will be assigned to either the X or Y axis of the grid designated by the Contest Manager or will be randomly assigned by our system if he or she so chooses. Upon the actual game starting, the numbers 0 - 9 will be randomly assigned to each row of each axis. This will be the grid of numbers used to determine winners.
How are Winners Determined?
Contest General provides you the option to choose which quarters,periods, or innings you would like to include in the scoring of your pool. For example, in football you could choose to use the 1st quarter, 3rd quarter and Final for your scoring which presents a possible 3 winners in your pool. After the game begins the square pool will lock, from here winners will be determined by the last digit in each teams square for that designated period. For example:
You are playing in a football square pool based on the game Dallas vs Detroit
Your square is 1 on the Dallas X axis (horizontal row) and 7 on the Detroit Y axis (vertical row). This would give you the square 1,7. The final game score is Dallas 21, Detroit 17 your square would hit and you would win because the last number in their respective scores lines up with your square.
Available Leagues:
NFL
NCAAF
NCAAF Top 25
NBA
NCAAB
NCAAB Top 25
MLB (Coming Soon)
Options and Settings:
Your Square Pool comes complete with a full suite of automated services and options to ensure you execute your contest in an effortless yet professional manner making the job of Commish smooth sailing. With your Football Survivor/Loser pool, you will have the option to utilize the following resources based on your needs:
- Allow between 1 and 99 squares per entry
- Auto closing and random number assignments
- Choose from up to four different scoring periods per square pool
- Trash Talk Message Boards
- Poolwide Email
- Printable Poolwide Square Picks
We also provide you and your friends with full telephone and email support to assist with any issues or questions that might arise.
What does a Square Pool cost?
Square Pools cost $4.99 per pool and includes up to 100 users. However, you can create your own square pool today for FREE at no risk of being charged. If you find it to meet your expectations and needs you will be required to pay your invoice before the pool starts by simply using one of our easy payment methods including Visa, Mastercard, Paypal or Paper Check.
Does Contest General offer White Label Skins for Tournament Madness Share Contests?
Absolutely! If you are a bar owner with regulars, a radio station running a promotion or perhaps a social club that would like a modern solution to running your sports contests then look no further. Contest General offers a tailored solution that allows you to brand your contests as well as allow your participants to play online. In addition you can broadcast your sports contests from your social media page or business web site for enhanced marketing of your brand as well as customer retention from their continued engagement with your business.
Still have questions?
If you still have questions please do not hesitate to contact us using our contact us form and our friendly customer service staff will be more than happy to assist you.