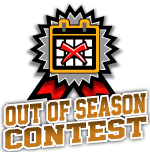 MLB 13-Run Contest - Thirteen-Run Pool

MLB 13-Run Contest
Baseball season is notoriously slow for sports contests, but a 13-Run Contest here at Contest General can be a great cure for the dog days of summer. Oftentimes, the 13-Run Contest runs well into the season, and this is a great way for a group of buddies to grab some beers, watch some hardball and root on your teams all summer long.
What is an MLB 13-Run Contest?
We all know that baseball can be a funny game. A team can get shutout one day and score 13 runs the next. And it's a good thing that happens from time to time because if not, the 13-Run Contest would ultimately fail to produce a winner! In order to win a 13-Run Contest, your team must have recorded a final score of zero runs, one run, two runs, three runs and so on, all the way up to 13 runs. Once a team accomplishes that goal, the contest is over.
During the 2016 MLB season, 16 of the 30 teams completed the 13-Run Contest, and the only one that had completed the task by the end of May was the St. Louis Cardinals. Think there's a rhyme or reason behind when a team finishes the 13-Run Contest? Think again. The World Series champion Chicago Cubs were the sixth club to get the job done during the year. The Colorado Rockies? They finished the season with just 75 wins, but they prevailed in the 13-Run Contest a lucky 13 days before the Cubbies.
2016 MLB 13-Run Contest Completion Dates
St. Louis Cardinals: May 28
Baltimore Orioles: June 2
San Francisco Giants: June 13
Colorado Rockies: June 14
Toronto Blue Jays: June 16
Chicago Cubs: June 27
Seattle Mariners: July 2
Washington Nationals: July 3
Boston Red Sox: July 4
Cleveland Indians: July 5
Tampa Bay Rays: July 20
Minnesota Twins: August 3
New York Yankees: August 5
Arizona Diamondbacks: August 17
New York Mets: August 27
Milwaukee Brewers: September 6
Atlanta Braves: Did Not Complete
Chicago White Sox: Did Not Complete
Cincinnati Reds: Did Not Complete
Detroit Tigers: Did Not Complete
Houston Astros: Did Not Complete
Kansas City Royals: Did Not Complete
Los Angeles Angels: Did Not Complete
Los Angeles Dodgers: Did Not Complete
Miami Marlins: Did Not Complete
Oakland Athletics: Did Not Complete
Philadelphia Phillies: Did Not Complete
Pittsburgh Pirates: Did Not Complete
San Diego Padres: Did Not Complete
Texas Rangers: Did Not Complete
Options and Settings
Your baseball 13-Run Contest comes complete with a full arsenal of automated services and options to ensure you can execute your contest in an effortless yet professional manner, making the job of Commissioner as easy as pie. With your MLB 13-Run Contest, you will have the option to utilize the following resources based on your needs:
Manual or random team assignments
Restart multiple contests with the same pool of players without having to re-register
Score emails
Pool-wide emails
Trash Talk message boards
Printable pool pick listings
We also provide you and your friends with full telephone and email support to assist with any issues or questions that may arise.
Does Contest General Offer White Label Skins for MLB 13-Run Contests?
Absolutely! If you are a bar owner with regulars, a radio station running a promotion or perhaps a social club that would like a modern solution to running your sports contests, don't look any further! Contest General offers a tailored solution that allows you to brand your contests and allow your participants to play online. In addition, you can broadcast your sports contests from your social media page or business website for enhanced marketing of your brand. It could also improve customer retention due to their continued engagement with your business.
Still Have Questions?
If you still have questions, please do not hesitate to contact us at CS@ContestGeneral.com, and our friendly, U.S.-based customer service staff will be more than happy to assist you.