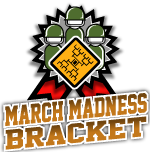 March Madness Bracket Pool

March Madness Bracket Contest
When it comes to sports contests, the pinnacle of all challenges is unequivocally the NCAA Tournament. It's virtually impossible to pick a perfect bracket during the entire 63-game portion of the tourney. Heck, finding a way to keep a couple of your teams alive for the final week of the Dance is hard enough. But fear not, you can find solace in piecing together the best bracket in your pool. Do that and you'll have bragging rights over your buddies until next March's Madness rolls around.
What is a March Madness Bracket Contest?
A March Madness Bracket Contest is incredibly simple. You'll start with a bracket that lists all 64 teams in the field, and it's your job to pick the winners of each game in the first round and the winners in each subsequent round up through the National Championship Game. Each correct pick earns you points towards your total score. The deeper into the tourney you go, the harder it gets to predict winners and the more points you get for each correct pick. But be forewarned! If your National Championship winner loses in the first round of the Dance, your bracket could be in the trash can before you get off work on Thursday.
Each March Madness Bracket Contest will be a little different based on the settings that your League Commissioner chooses. Some bracket contests reward bonus points for upsets or hand out a disproportionate amount of points for correct picks later in the tournament.
Options and Settings
Your March Madness Bracket Contest comes complete with a plethora of automated services and options to ensure you can execute your contest in an effortless yet professional manner, making the job of Commissioner a piece of cake. With your March Madness Bracket Contest, you will have the option to utilize the following resources based on your needs:
Multiple scoring options to choose from
Optional "Quick Pick" feature that automatically picks all of the favorites
Customized points earned by round
Utilize "upset bonuses" in any round to earn bonus points
Start your March Madness Bracket Contest in any round of the NCAA Tournament
Multiple tiebreaker options to choose from for transparent rankings
Reminder notices
Trash Talk message boards
Pool-wide emails
Printable pool-wide pick listings
We also provide you and your friends with full telephone and email support to assist with any issues or questions that may arise.
Does Contest General Offer White Label Skins for March Madness Bracket Contests?
Absolutely! If you are a bar owner with regulars, a radio station running a promotion or perhaps a social club that would like a modern solution to running your sports contests, you've found the right place! Contest General offers a tailored solution that enables you to brand your contests and allows your participants to play online. In addition, you can broadcast your sports contests from your social media page or business website for enhanced marketing of your brand. It could also improve customer retention due to their continued engagement with your business.
Still Have Questions?
If you still have questions, please do not hesitate to contact us at CS@ContestGeneral.com, and our friendly, U.S.-based customer service staff will be more than happy to assist you.