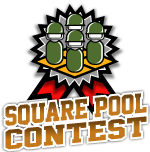 Square Pool Contest

Square Pool Contest
"Squares" is a wildly popular game when it comes to the Super Bowl. At its surface, a Square Pool Contest is merely a game of luck. Just like Bingo, if your squares hit, you can trot around your office like you did something special. However, our Square Pool Contests cover much more than just the biggest NFL game of the year, and that gives you ample opportunities over the course of the year to play squares across multiple sports.
What is a Square Pool Contest?
A square grid is a 10x10 grid with the numbers 0 through 9 running down and across the table. Your "square" is randomly generated so you could end up with anything from 0/0 to 9/7 to 4/5 or anywhere in between with 100 available square combinations.
These numbers represent the last digit of the scores for the two teams involved in the game. So if you have the number 7 in your pool, that's the same as having 7, 17, 27, 37, etc.
In the case of the Super Bowl, one axis represents the score of the NFC team while the other axis represents the score of the AFC team. If you were involved in a Square Pool Contest for Super Bowl 50 between the Denver Broncos and Carolina Panthers that awarded winners at the end of every quarter, the winning squares would have been 0/0 in the first quarter (10-0 Denver), 3/7 in the second quarter (13-7 Denver), 6/7 in the third quarter (16-7 Denver) and 4/0 in the fourth quarter (24-10 Denver).
Depending upon your pool, there could be just one winner, the one who has the correct square matching the final score of the game. There also could be multiple winners if your League Commissioner decides to hand out prizes at the end of quarters, halves, periods or innings, depending upon the sport.
Options and Settings
Your Square Pool Contest comes complete with a boatload of automated services and options to ensure you can execute your contest in an effortless yet professional manner, making the job of Commissioner simple. With your Square Pool Contest, you will have the option to utilize the following resources based on your needs:
Allow between 1 and 99 squares per entry
Auto closing and random number assignments
Choose from up to four different scoring periods per contest
Reminder notices
Trash Talk message boards
Pool-wide emails
Printable pool-wide pick listings
We also provide you and your friends with full telephone and email support to assist with any issues or questions that may arise.
Does Contest General Offer White Label Skins for Square Pool Contests?
Absolutely! If you are a bar owner with regulars, a radio station running a promotion or perhaps a social club that would like a modern solution to running your sports contests, you've found the right place! Contest General offers a tailored solution that enables you to brand your contests and allows your participants to play online. In addition, you can broadcast your sports contests from your social media page or business website for enhanced marketing of your brand. It could also improve customer retention due to their continued engagement with your business.
Still Have Questions?
If you still have questions, please do not hesitate to contact us at CS@ContestGeneral.com, and our friendly, U.S.-based customer service staff will be more than happy to assist you.