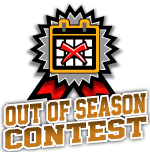 Tournament Madness Seed Value

March Madness Seed Value Contest
Anyone can fill out a bracket for the NCAA Tournament. It's a simple process…fill in the bubbles and aim to pick as many winners as possible, particularly the Final Four. But here at Contest General, we've got a new game that puts a different spin on the traditional NCAA Tournament bracket contests. Our March Madness Seed Value Contest will test your full arsenal of skills as you have to find the delicate balance between selecting the teams that can go the distance while identifying those perfect upsets.
What is a March Madness Seed Value Contest?
As you know, each team that reaches the NCAA Tournament is assigned a seeding. The No. 1 seeds are viewed as the best teams in the tournament while the No. 16 seeds are the worst teams. But this is the world of sports, and we know that the best teams don't always win. We also know that, quite often, Cinderella teams come out of nowhere to reach the Final Four.
Your goal is to figure out how to get the most points to win your pool. Points are earned based on seedings. If your seed wins, you get that number of points. If your seed loses, you get nothing. But blindly picking the top seeds isn't a great strategy because if a 1-seed wins the National Championship, you'll earn a measly six points total for that team, one for each of its six wins. However, if you pick a No. 12 seed and that team pulls off just one upset and is bounced in its second game, you earn 12 points and already doubled what you're getting from the No. 1 seed. Of course, the danger in picking the higher seeds is losing in the first round and earning absolutely nothing.
The default March Madness Seed Value Contest will task you with picking eight teams in the NCAA Tournament. However, your League Commissioner can customize the number of teams for your pool.
Options and Settings
Your March Madness Seed Value Contest comes complete with a bevy of automated services and options to ensure you can execute your contest in an effortless yet professional manner, making the job of Commissioner effortless. With your March Madness Seed Value Contest, you will have the option to utilize the following resources based on your needs:
"What If" standings to give a glimpse of the leaderboard for future scenarios
Unlimited amount of entrants per contest
Contest will auto-close once the first game of the NCAA Tournament begins
Automatic scoring and updating on the leaderboard
Trash Talk message boards
Pool-wide emails
We also provide you and your friends with full telephone and email support to assist with any issues or questions that may arise.
Does Contest General Offer White Label Skins for March Madness Seed Value Contests?
Absolutely! If you are a bar owner with regulars, a radio station running a promotion or perhaps a social club that would like a modern solution to running your sports contests, you've found the right place! Contest General offers a tailored solution that enables you to brand your contests and allows your participants to play online. In addition, you can broadcast your sports contests from your social media page or business website for enhanced marketing of your brand. It could also improve customer retention due to their continued engagement with your business.
Still Have Questions?
If you still have questions, please do not hesitate to contact us at CS@ContestGeneral.com, and our friendly, U.S.-based customer service staff will be more than happy to assist you.